Infomail Wissenschaft Nr. 11 (english version, May 2023)
TOURISM & WASTE
CONTENT
Waste prevention - a luxury in the luxury hotel industry? (NATASCHA DOCKAL) ---> read the article
Mountains of Solid Wastes in the Everest Region: Is Trekking Tourism Really Sustainable? (SITARAM DAHAL, Nepal Tourism Board) ---> read the article
Waste management in and around Uganda's national parks: Complex rules, practical problems, simple solutions (AHIMBISIBWE COLLEB, JIMMY OGWAND & HARALD A. FRIEDL) ---> read the article
Recent Crises and Their Implications on Environmental Performance in the Tourism & Hospitality Sector in Sri Lanka (HIRAN DINUSHA and CHANDIMAL RANATHUNGA, Sabaragamuwa University, Sri Lanka) ---> read the article
---
Waste prevention - a luxury in the luxury hotel industry?
By NATASCHA DOCKAL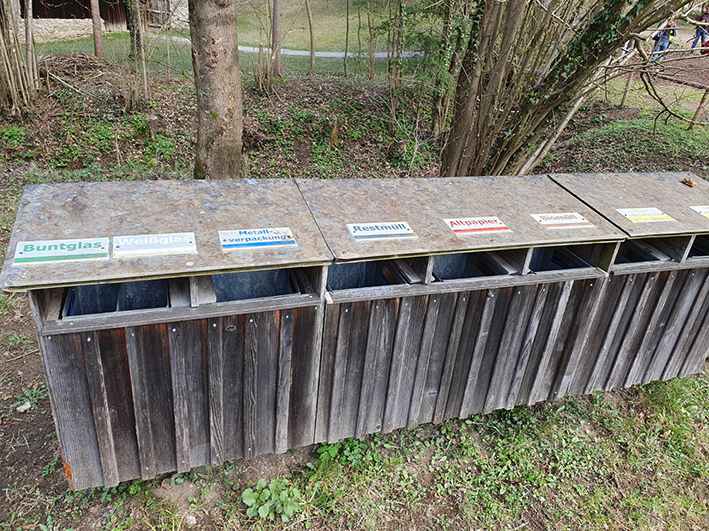 In today's world, reducing waste and minimizing the waste of resources are becoming increasingly important, even in the luxury hotel industry, where this initially appears to be a strong contradiction. On closer inspection, however, this is a sensible undertaking: as a necessary contribution to environmental protection, as an economic gain and as a strengthening of the company's reputation.
Sustainability is discussed in politics as well as in society, and Austria has committed itself to international climate agreements. The desire of guests and consumers for more commitment to sustainability in everyday life as well as when travelling also seems to be growing. Nevertheless, many weaknesses are still noticeable. In her Master's thesis, Natascha Dockal investigated how the Austrian Eco-label can be seen as supporting profits in the luxury hotel industry. She conducted a quality and potential analysis of the A-ROSA Resort in Kitzbühel and aroused interest in this sustainability certification among the hotel's decision-makers.
When thinking about the topic of waste in the context of the individual areas of a hotel, it becomes clear that this topic is a constant companion. Thus, waste is a promising adjusting screw to contribute to the sustainability of a business.
The Austrian Eco-label requires a business to have a written waste management concept, which must be checked and updated regularly. In this context, the individual departments and the respective measures are to be addressed, but also the general practices of the company. For example, it is required that waste bins are provided in the toilets with instructions that waste is to be disposed of in this bin instead of in the toilet. In general, it should be made easier for guests to separate their waste, especially if there is no separation in the rooms. For example, drinks should be purchased in reusable containers instead of cans. Packaging in portion sizes should also be avoided. Food waste should be avoided as far as possible (Kreuzpointner & Fichtl, 2018).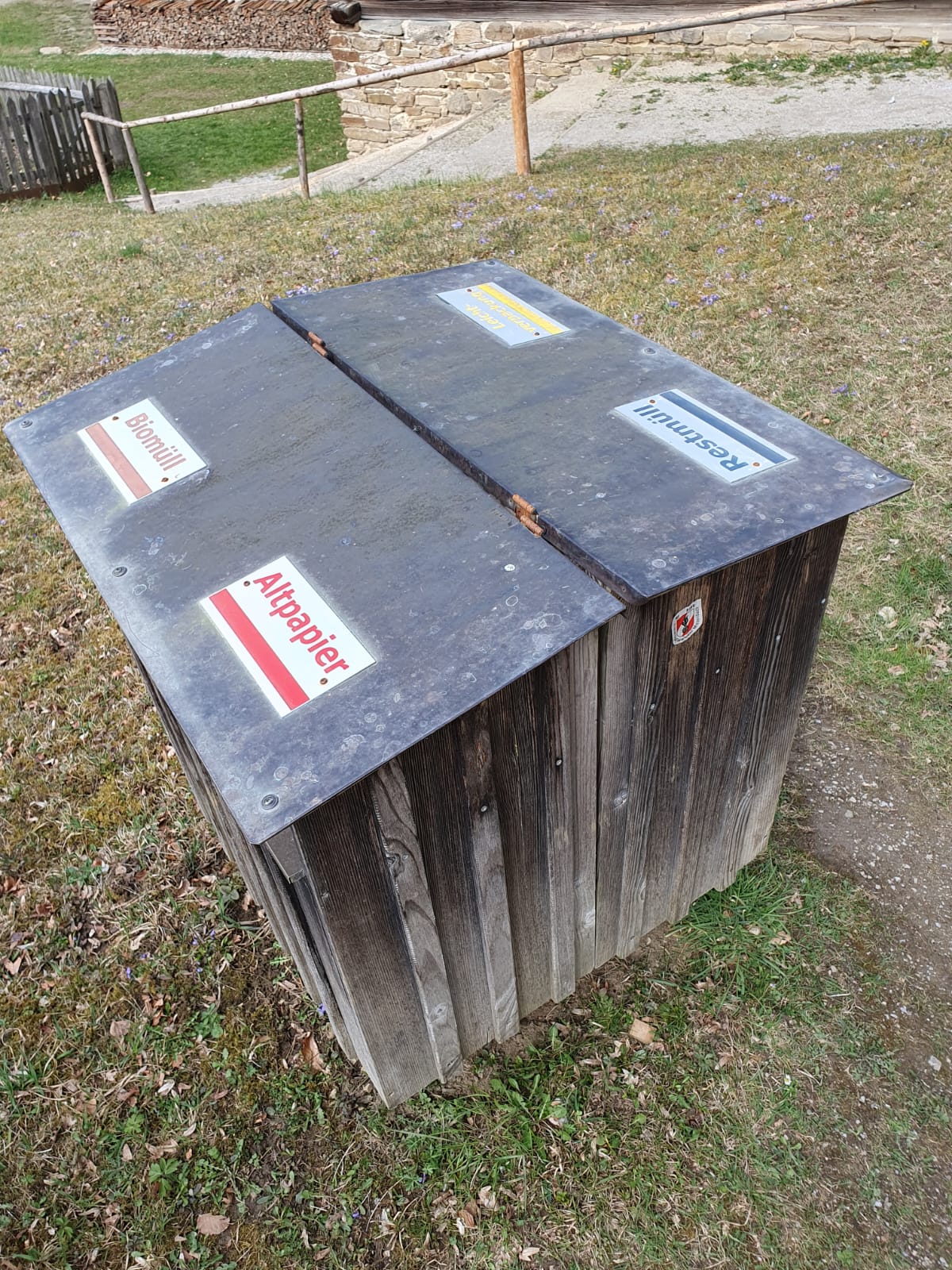 Waste disposal is also an important factor for sustainability because residual waste is the most expensive type of waste. However, it is precisely this waste that accumulates the most due to a lack of proper separation. A lot of (food) waste can also be avoided in the F&B sector: In 2020, a Swiss start-up documented food waste by dish and weight to find out where and why food waste occurs. It became painfully clear how few scruples some people have when it comes to wasting food: Mass consumption and luxury in abundance... This is not so much about doing without as it is about avoiding unnecessary waste by raising awareness and promoting a culture of mindful food handling.
What can a luxury hotel do to avoid waste? Already when purchasing, reusable containers and large packaging should be preferred. In the guest rooms as well as in the SPA area, refillable packaging should be preferred. Unused but usable items can be given to staff members. Waste separation stations in the corridors, combined with appropriate invitations to guests, motivate them to help. Speaking of the guests' help in sustainability commitment: In the meantime, some companies such as the arcotel Hotels or the cocoon in Salzburg have abandoned daily room cleaning and only offer this service on request. This not only saves personnel costs, but also resources. There is also great potential for waste reduction in the office area: digital invoices, flyers only on demand, reduction of paper mail are just a few possibilities.
In summary, numerous possibilities for waste avoidance and reduction can also be identified in luxury hotels if one goes through such a business with open eyes and an awareness of environmental protection - and this without high technical or financial hurdles for conversions. On the contrary, the waste segment is particularly attractive in terms of cost savings. Decisive for success here is also the commitment of all involved and the concrete individual engagement. For the implementation of environmental protection measures can only succeed in harmony between hotel management, staff, guests and suppliers. As Mahatma Gandhi said: "Be the change you wish to see in the world.
The author: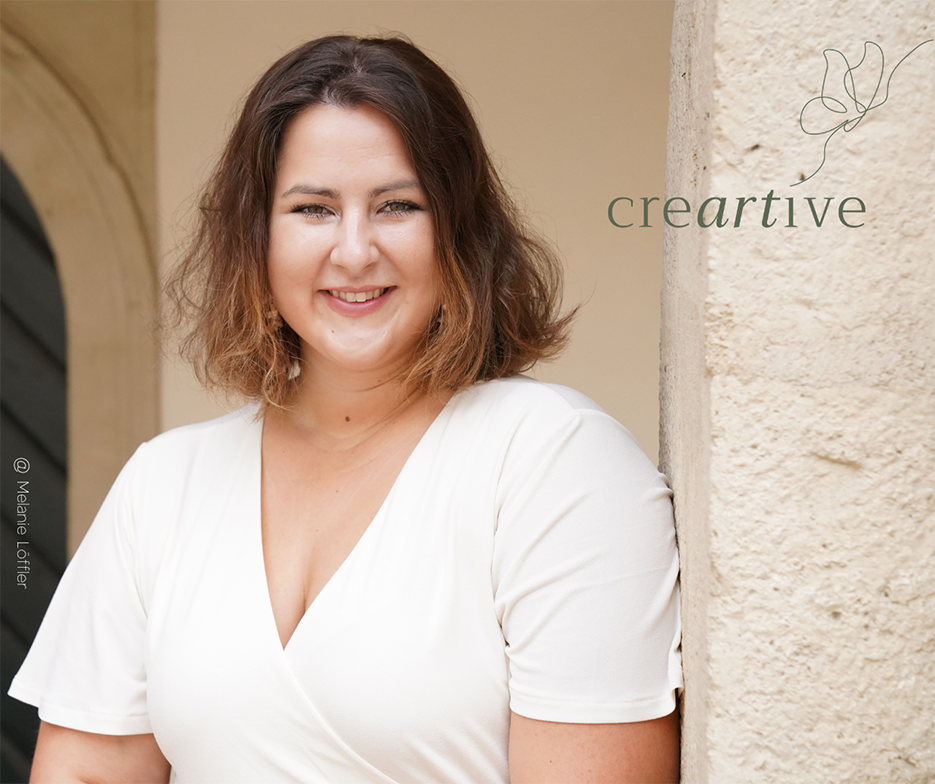 NATASCHA DOCKAL, MA, is a graduate of FH JOANNEUM in Bad Gleichenberg. After working as an HR & Leadership Consultant, she started her own business in value-oriented change management in the tourism industry. With her company "creartive" she supports employers in tourism in positioning themselves attractively with appreciation, recognition and uniqueness. The topics of mindset and awareness have accompanied her since her master's thesis and are now also deeply anchored in her company.
Source:
Kreuzpointner, E. & Fichtl, O. (Bundesministerium für Klimaschutz, Umwelt und Energie, Hrsg.). (2018). Richtlinie UZ 200 - Tourismus und Freizeitwirtschaft. Verfügbar unter: https://www.umweltzeichen.at/de/f%C3%BCr-interessierte/richtlinien/
---
 

Mountains of Solid Wastes in the Everest Region: Is Trekking Tourism Really Sustainable?

By SITARAM DAHAL, Nepal Tourism Board
Mount Everest, the highest summit of the planet was on news all over the world in 2019, however, not for a good cause. The picture taken by Guinness World Record holder climber Mr. Nirmal Purja went viral which exposed the huge traffic of the Summiteers in the Everest. Another similar incident was when the Everest was portrayed as "the mountain of the wastes" by the National Geographic which posed a serious threat to the UNESCO World Heritage Site. So, what are the major causes of it? Mountain itself, natural resources of the region, or native population of the region (which is very low)? Obviously, the visitors who visit the region for trekking and expedition are the main contributors.
Trekking Tourism is widely regarded as one of the forms of Sustainable Tourism. Scholars like Rozycki and Dryglas (2014) opine that trekking is done in unexplored region where flow of visitors are usually low. It is a nature-based tourism. However, data of Everest region show contradictory picture. In the year 2019, Mountain Cleaning Campaign which is usually conducted annually in the region, collected 10,000 Kilograms of solid wastes from the region. These solid wastes are usually wastes left by the trekkers and climbers of Mount Everest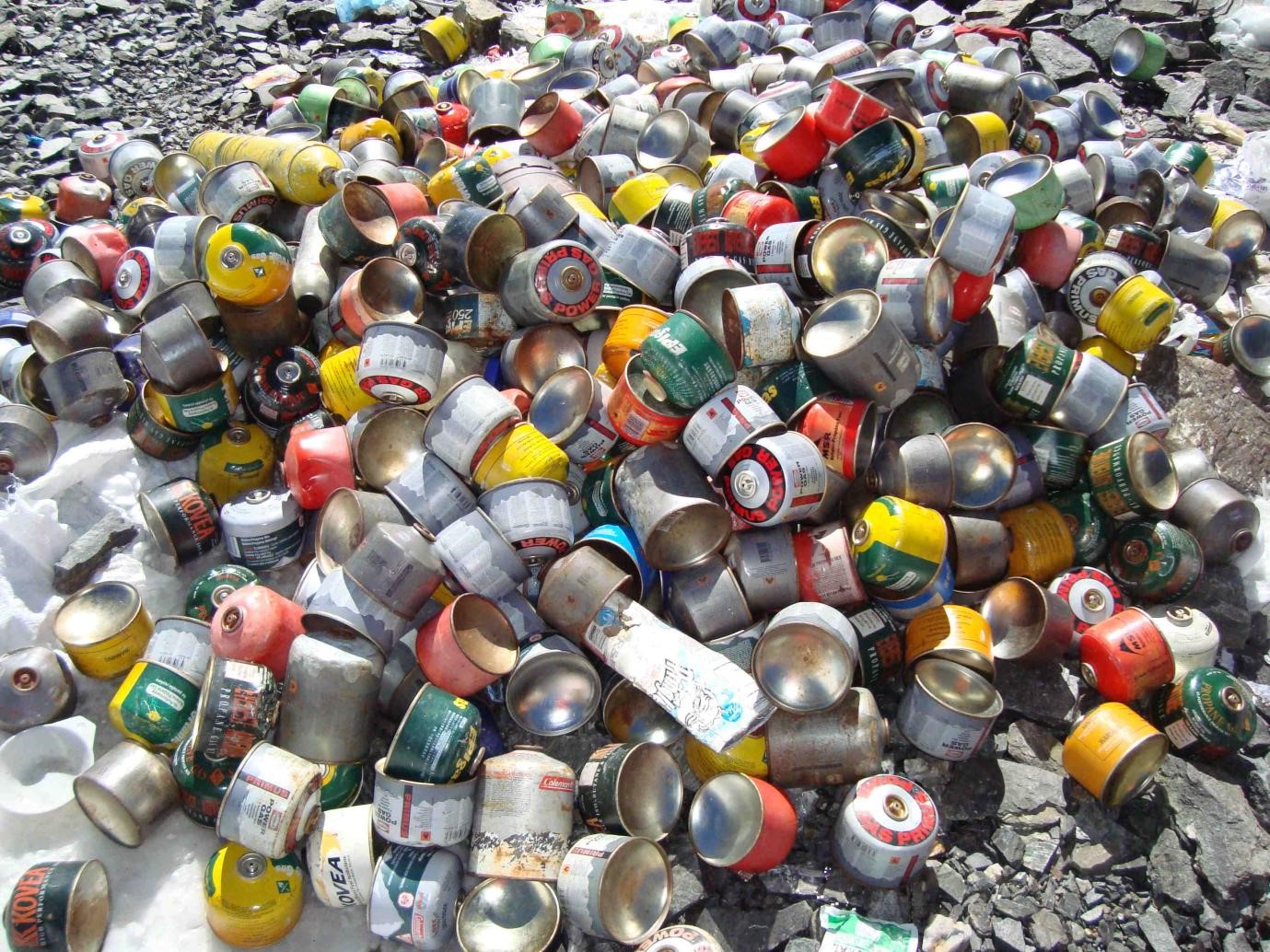 Multiplier impacts of Tourism in Khumbu
Tourism came as a gamechanger in the Everest region where there were minimal opportunities for livelihood. The region is a mountainous region where there is less fertile land suitable for commercial agriculture. Lack of infrastructures hinder the region for other alternative source of economy.
Scholars like Mahato et al. (2020) shared that mountain tourism, especially expedition in Everest could be regarded as the first tourism activity in the country. The country was open to very limited people especially invited delegates of the rulers prior 1950. After the formal opening of the tourism in 1951, the sector has been one of the top contributors of national Gross Domestic Product. World Tourism and Travel Council estimated that tourism industry contributed approximately 7% of total GDP in 2019. The figure would be far more if we consider associated contributions.
To be specific to Everest region, the Sagarmatha National Park collected more than 950 million Nepali Rupees as revenue. The contribution of tourism in the form of employment and businesses of local tea houses/lodges are more. In addition to this, Tourism has worked as an icebreaker in the field of education and health facilities in the region, as schools and health facilities are established after flourishing of tourism in the region.
Wastes in the Everest: multiple causes and multiple outcomes
There are many causes of the wastes in the Everest. Lack of proper implementation and monitoring of the Waste management rules in Khumbu by the stakeholders, lack of timely transfer of the generated and collected wastes from the region, frequent incidents of cases induced by poor hygiene are also drivers.
Similarly, there are multiple impacts of the wastes. From environmental deterioration, Green House Gas emission, climate change to affecting tourism factors which is directly related to economy of the region; wastes have multiple direct and associated impacts.
How wastes are managed in the region?
It is not like that no initiations are being done to manage the wastes in Khumbu region. There is a designated body Sagarmatha Pollution Control Committee which works on Solid Waste Management as well. Multiple stakeholders are also working on it. For instance: Federal and local government have put waste management as a priority work; Nepali Army run annual program of Mountain Cleaning Campaign where wastes in the mountains are collected, transferred and managed; different civil societies are also working on waste management in the region. Further, rules have been made for the Waste management in the region by the Government.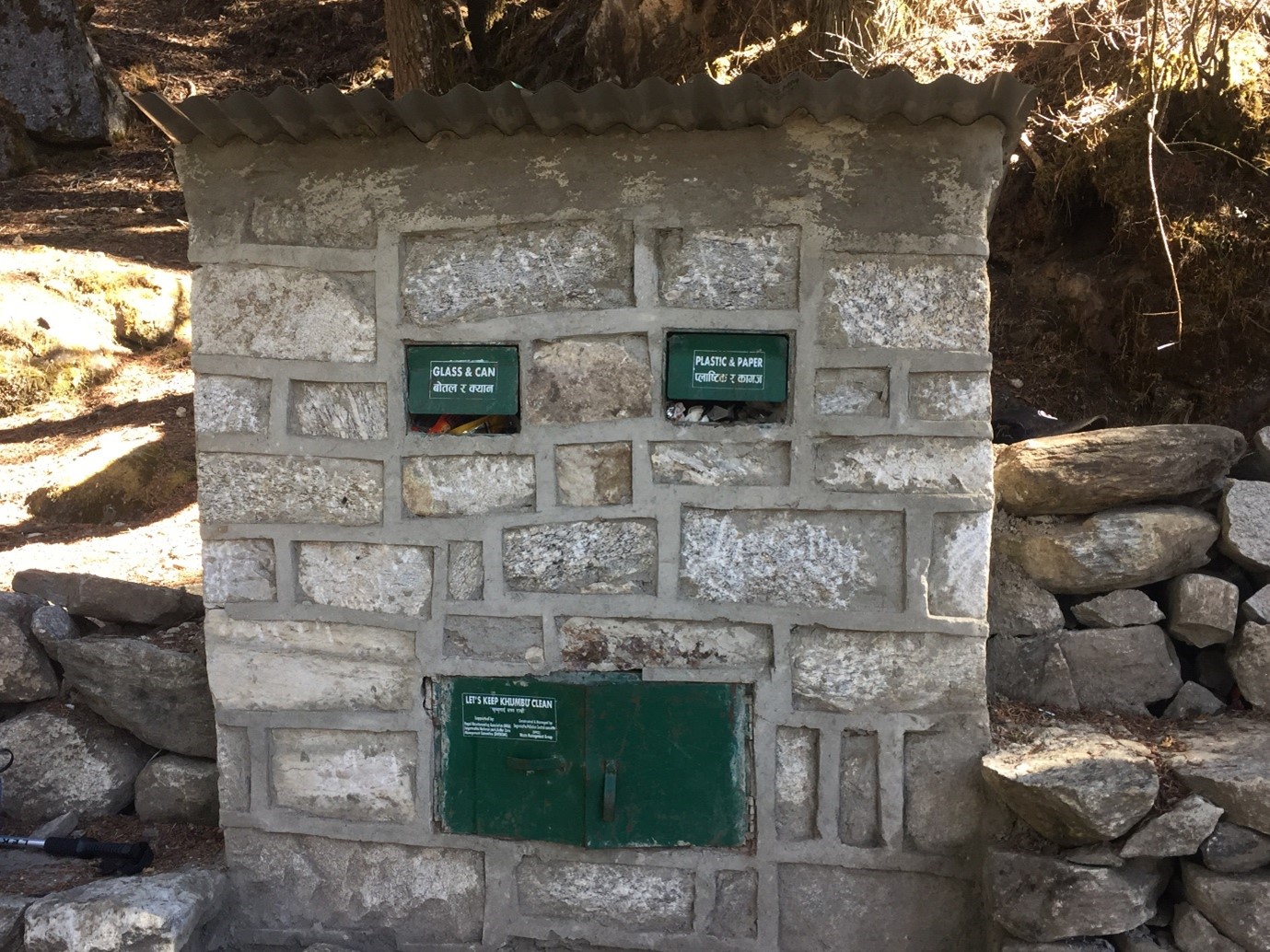 Blame game among stakeholders
Major actors of the region agree on the threat rising quantity of solid wastes have posed to the region. However, there is a usual debate on who is the most responsible for the scenario. For instance: Mr. Pasang, a local guide was prompt to indicate the cause to the visitors when asked about the causes of those wastes. Similarly, a fellow trekker indicated the overflow of the garbage in the designated areas of waste collection when asked about the wastes. There is law on solid waste management, however, weak implementation is visible on the quantity of generated wastes.
Solid wastes in the Everest: a perfect example of 'Tragedy of the Commons"
Garrett Hardin presented theory of tragedy of the commons (1968) on how the common resources are being overexploited and deteriorated. The theory suggests that a human tends to make a rationale decision while overexploiting the resources as the benefits from the resources will be enjoyed solely, while the consequences would be experienced in a fraction. Similarly, while trekkers go for the trekking, they equip themselves with enough portable foods and other accessories which they usually leave while returning and after consumption. That comforts them while the consequences will be experienced by all. It is the rationale decision of the visitors that is the main driver of the generation of Solid wastes in Everest region. However, the decision is totally irresponsible.
Leave only Footprints, Take only Memories: The Only solution for the Solid Waste
The best way of solid waste management in places like Everest region is to not produce any waste. Visitors take lots of food (usually imported) citing the reasons of health and hygiene which not only generate solid waste but also contribute to carbon emission due to food miles. Therefore, wholistic and multi-sectoral actions are needed for the effective solid waste management in the greatest sculpture of nature: Mount Everest.
The author: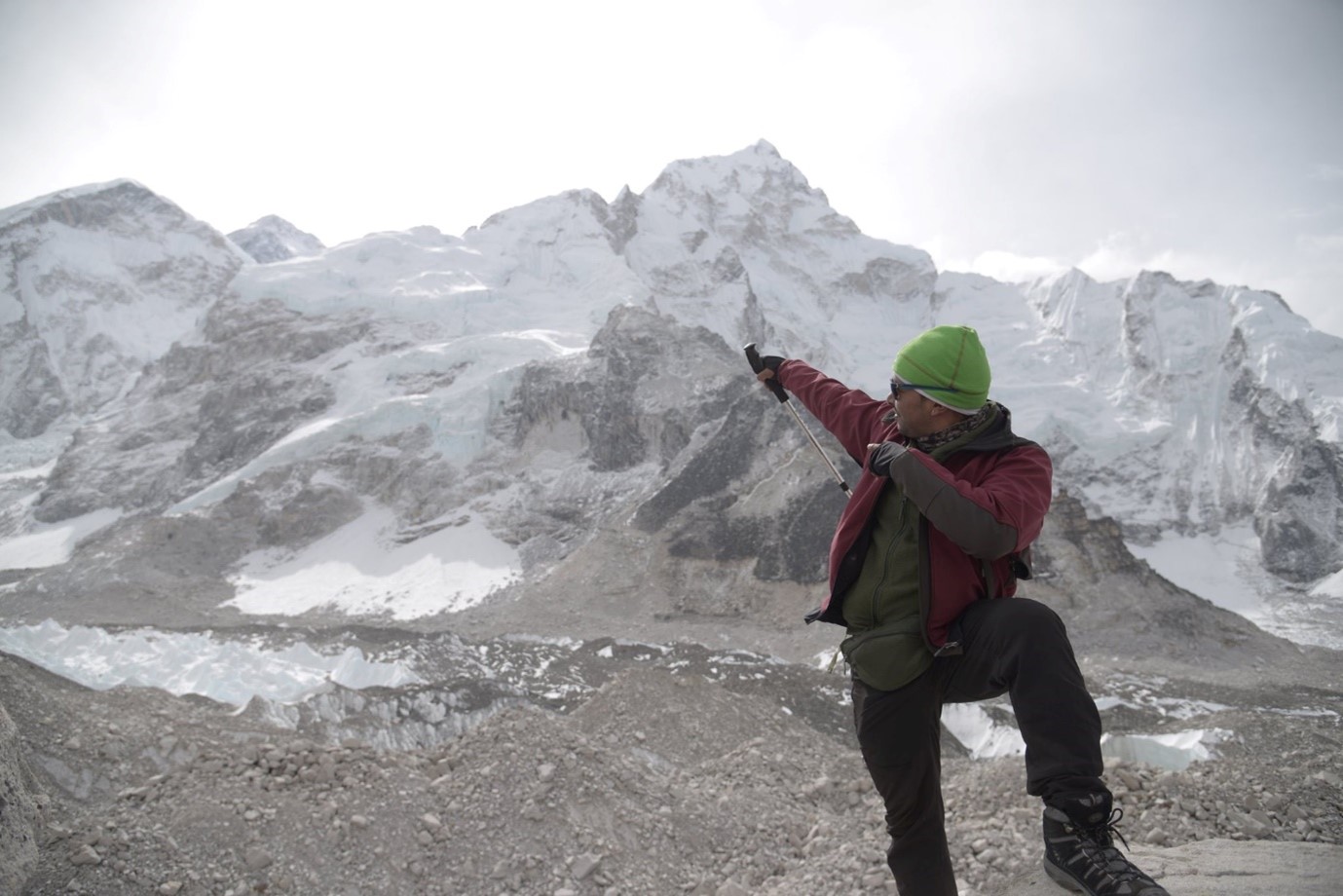 SITARAM DAHAL works as Public Relations and Publicity Officer at Nepal Tourism Board, National Tourism Organization of Nepal. He is a trainer for Sustainable Tourism at CESTour. He holds a Masters degree in Environment and Sustainable Development and a Master in Rural Development. Currently, he is pursuing a PG Diploma in Climate Friendly Travel at ITS, Malta / SunXMalta. The article is based on his research work about the Trekking Tourism and Sustainability Dillema (in appearance).
 
Cited sources:
Rozycki, P. & Dryglas, D. (2014). Trekking as a phenomenon of tourism in the modern world. Acta Geoturistica vol. 5 (1), nr. 1, pp 24-40 https://www.researchgate.net/publication/301565755_Trekking_as_a_phenomenon_of_tourism_in_the_modern_world
Hardin, G. (1968). The Tragedy of the Commons: The population problem has no technical solution; it requires a fundamental extension in morality. Science, Vol. 162 (3859), pp 1243-1248, doi.org/10.1126/science.162.3859.1243
Mahato, G., Nyaupane, P., Lamichhane, M., Bhattarai, U., Subedi, D., Shrestha, S., & Dahal, A. (2021). Tourism in Nepal. Kathmandu: Nepal Mountain Academy.
 
---
Waste management in and around Uganda's national parks: Complex rules, practical problems, simple solutions
By AHIMBISIBWE COLLEB, JIMMY OGWAND & HARALD A. FRIEDL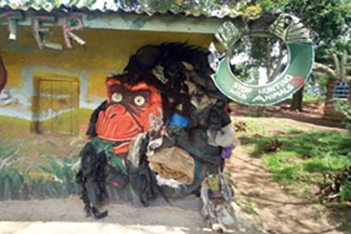 Uganda, situated on the equator between Congo, Lake Victoria and South Sudan, was once called "the pearl of Africa" by Winston Churchill. The country near the source of the Nile impresses with a variety of natural and landscape forms and a large number of nature and national parks. Among the best-known tourist attractions are the gorilla reserves in the north-east of the country, which are difficult to access, and the spectacular Murchison Falls of the White Nile. Nature tourism is a key source of foreign exchange for Uganda. But tourism - like the life around the national parks - produces waste, the disposal of which poses a particular challenge. The regional travel company Mandrill African Safaris sees itself as part of the solution ...
Plastic as a modern means of packaging
In protected areas, and especially around them, waste management is a particular challenge. The days when goods were transported to the end consumer using natural packaging materials are largely over, even if the banana leaf still plays a certain role as a packaging material (the plantain is a staple food in Uganda). This is because the lightweight and durable plastic has long since displaced traditional packaging materials. But it is precisely the durability that poses a central problem.
This is why managing the collection and disposal of plastic waste is a central goal of development projects, such as the Kibale Fish and Monkey Project. The project focuses on health promotion in communities around the Kibale National Park in the west of the country. Here, waste was previously burned in an uncontrolled and individual manner, which led to enormous smoke pollution of people and ecosystems. Or the plastic waste was "dumped" in roadside ditches, at water points and in the forests. However, such wild dumpsites are breeding grounds for malaria and other dangerous pathogens. Tackling the problem of litter is therefore also an important contribution to health promotion. In addition, plastics affect tree germination and ecosystem health.
Complex rules for real-life problems?
The handling of waste is clearly regulated by law in Uganda. According to modern standards, waste is to be avoided as far as possible and plastic is to be recycled. The Ugandan Nature Conservation Authority is responsible for implementing these laws in the national parks and their neighboring communities. This applies to the collection, transport and disposal of waste. For this purpose, waste disposal sites have been set up in Kibale National Park, for example, and waste containers have been provided at highly frequented locations and in the neighboring communities, which are also emptied and disposed of by the national park administration. In addition, there are strict regulations for the import and use of plastics in the national park. To avoid plastic waste, the use of reusable shopping bags is promoted, for example, or the reuse of plastic carrier bags as rubbish bags is encouraged. Correct waste separation also plays a central role.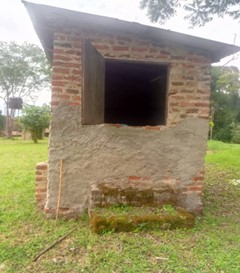 Practical obstacles outside the protected areas
To implement these rules in the settlement areas outside the national park, containers were set up at excellent collection points in selected villages and rubbish bags with the inscription "Only plastic" were distributed to the population. This was to make it as easy as possible to collect and hand in plastic waste separately. According to the plan, the collected waste was then to be centrally incinerated or transported to the central landfills of the city administration.
However, the implementation of this plan quickly ran into fundamental problems: At first, hardly anyone adhered to the specifications for separating the waste. Rather, the plastic collection bins were found to contain a mishmash of waste. Then the quality of the collection bags also proved to be inferior in view of the extreme weather conditions of high humidity and heat. Numerous collection bags that did not weather were stolen by community members to store food for personal use. In the end, the collection bags had to be replaced with better quality ones, which led to unplanned costs.
The main problem, however, was the disposal of the full collection bags, because the labor and transport costs were not included in the project budget. Incineration was rejected because of the health hazards, and to bury the waste there is a lack of funds for waste transport as well as for the acquisition of a suitable piece of land. Currently, new, practicable and financially viable solutions to the waste problem are being sought outside the national park. Upcycling is a new approach: In some villages, baskets are woven from usable waste, decorations such as elephant statues are designed, or chairs are built from plastic bottles. Given the major practical problems with waste disposal, waste prevention is becoming a key issue.
Waste prevention on safaris
Mandrill African Safaris sees itself as an important role model as well as an advisor in the communities along the tourist routes. In this context, training courses that are oriented towards the daily life of the local people in terms of content and didactics are an important lever to win people over to the issue of waste prevention. The most important thing, however, is to avoid introducing waste into the regions they visit. Therefore, the employees of Mandrill African Safaris have as ironclad rules not to dump waste in the park and along the roads and not to feed wildlife. Waste generated during tourist trips is collected in containers in the vehicles and disposed of in official ones after the return journey. Multi-purpose bags are used for purchases made on the road. The use of plastic bags is taboo at Mandrill African Safaris.
Above all, however, it is always important to sensitize travel clients to the issue of waste. In this way, a trip to the last natural treasures on earth can become a formative experience that leads to a rethinking of how we deal with our own living environment. In this way, our guests can become advocates for environmental protection.
The authors: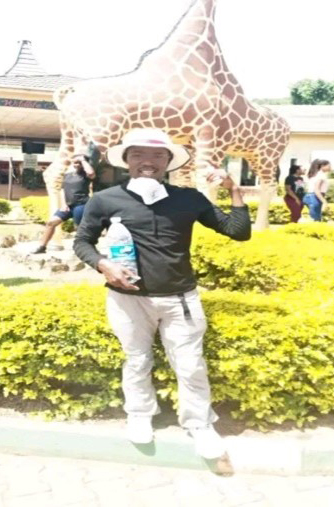 AHIMBISIWE COLLEB, 27, used to be a big game hunter until he founded Mandrill African Safaris in 2019. A graduate of Nkumba University, a collaborative partner of FH JOANNUM, he is now a professional guide, consultant in national park agendas and research assistant at Makerere University's Biological Field Station (MUBFS) in collaboration with Kibale National Park.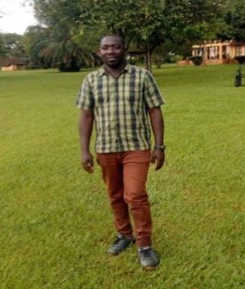 JIMMY OGWANG, 37, is a tour guide with Mandrill African Safaris, an excellent authority on Uganda's national parks and also a research assistant at Makerere University in the Biological Field Station (MUBFS).
Mandrill African Safaris (https://mandrillsafaris.com/about.php) works with the Uganda Wildlife Authority (UWA), Makerere University Biological Field Station (MUBFS) and other foreign universities on environmental and climate change projects.
---
Recent Crises and Their Implications on Environmental Performance in the Tourism & Hospitality Sector in Sri Lanka
By HIRAN DINUSHA and CHANDIMAL RANATHUNGA, Sabaragamuwa University, Sri Lanka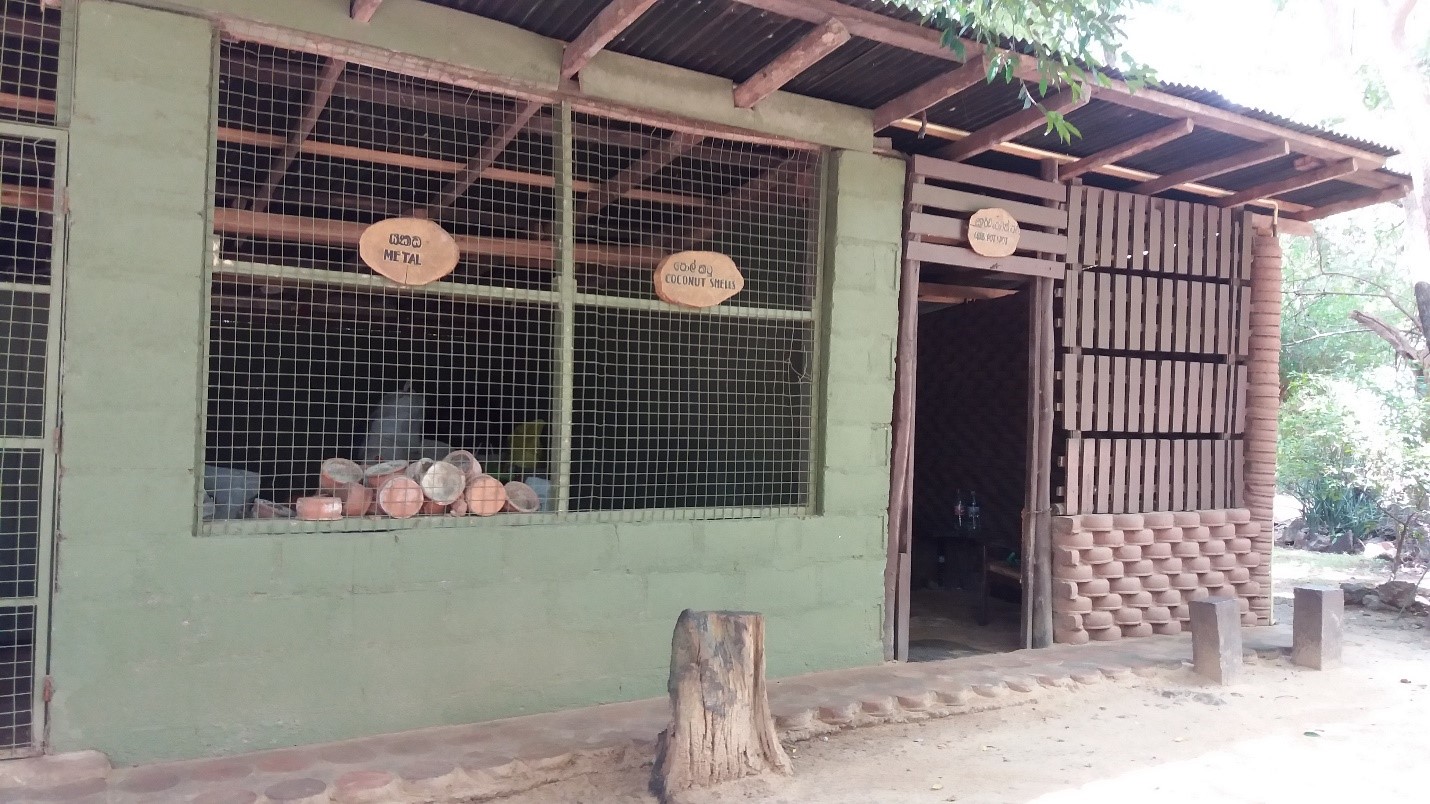 COVID-19, the global pandemic plunged many of the emerging economies and markets into massive contractions and recessions ever faced in their histories. The unforeseen global blow hit hard on the economies which relied mostly on tourism, global trade, commodity exports, and external financing. The tourism industry in Sri Lanka which is the third largest foreign exchange earner for Sri Lanka, faced the second wave of devastating impacts at a higher magnitude from this global hit as it was slowly blooming up from the aftermath of the Easter Sunday attacks in 2019. A comeback for the industry was never realized even during 2022, due to follow-up economic and political crises faced by the island nation.
As the industry was crippled by three to four consecutive hits in a shorter time, many businesses diverted their budgetary allocations to finance survival options rather than financing functions such as sustainability, environmental management, CSR, etc. Although from the business point of view, it is totally justifiable to re-allocating the budgetary allocations to survive and remain in the industry but from the environmental point of view it is hard to find justifiable reasons for having auxiliary budget allocations for sustainability and environmental management-related activities. Since most of the sustainability-related issues are subtle and inconspicuous in nature and might possess unrecoverable and deleterious consequences for the industry in the future.
A green economic recovery could have capitalized on the acquired global dip in GHG emission due to the pandemic, but a green economic recovery distinctively for the tourism industry in the island nation was never too easy since it was hit hardly by multiple crises. For example, policy formulation which is an integral part of the green recovery process never realized at the state level due to greater political and economic instability.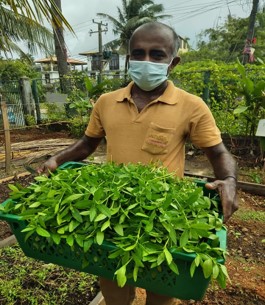 At the operational level, many businesses and entities involved in the sector had to face multiple sustainability challenges. Not only in operationalizing the sustainability pledges and commitments such as clean energy transition and climate pledges but to perform their basic environmental management practices such as managing waste and emissions generated on-site.
Due to the disruption of essential supplies such as electricity, fuel, and gas, many businesses had to invest additional to secure essential supplies. For example, some businesses had to construct temporary structures to store fuel and gas which might become unwanted investments when the supplies restore and possesses a greater risk to the business from a health & safety point of view. Frequent power cuts pushed businesses to heavily rely on on-site power generation through the burning of fossil fuel which has high rated emissions than purchasing from the national grid.
Immobilization occurred in local solid waste management systems due to many resource constraints faced by formal and informal actors involved in the system leaving a massive burden on the industry in terms of handling and storage of different solid waste fractions. The issue was further aggravated due to changes in the composition of waste generated from changes in occupant profiles and unexpected amounts of sanitary and healthcare waste.
Optimization of supply chains, revamping of transportation nodes, promote locally produced food items and products for tourists, use of public transportation for operational activities by hotels and travel companies, and enhanced concern for fuel efficiency are among the multiple positives acquired during these crises and are promising in accelerating environmental performance during its re-emergence in the post-crises scenario and possess not only environmental benefits but also economic benefits at large.
As a country that possesses greater tourism potential, had substantial experience to assess the risks and vulnerability associated with the sustainability and environmental management plans of the industry. And it is high time to revisit and formulate more resilient and stronger sustainability roadmaps and environmental management plans to revive and thrive the industry towards a sustainable future which could potentially become a survival option in perspective calamities.
The authors: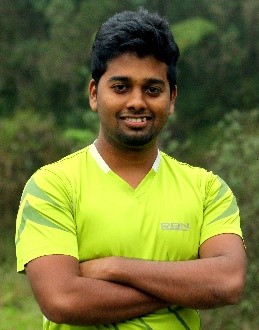 CHANDIMAL RANATHUNGA, Lecturer (Prob.), Department of Tourism Management, Faculty of Management Studies, Sabaragamuwa University of Sri Lanka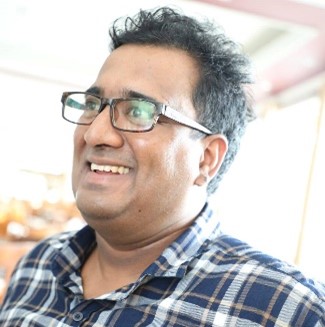 HIRAN DINUSHA, Lecturer (Prob.), Department of Tourism Management, Faculty of Management Studies, Sabaragamuwa University of Sri Lanka
Sabaragamuwa University Sri Lanka is a cooperation partner of FH JOANNEUM within the framework of the ERASMUS+ project "CesTour" - "Centers of Excellence in Sustainable Tourism to boost Economic Development and enhance University".
---